2021 - 2022 Graham Fosbery President's Award Presentation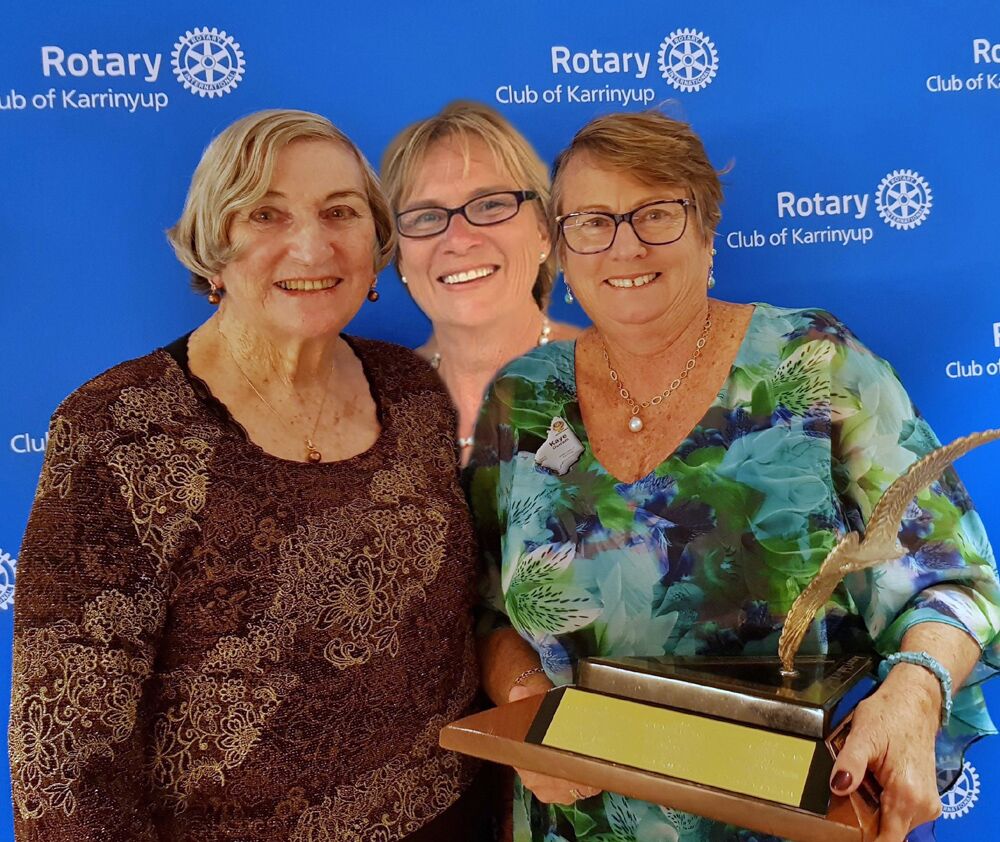 In 2001, the Rotary Club of Geraldton launched the production of 645 Limited Edition solid Silver Gull sculptures in aid of the Memorial to HMAS Sydney. RC Karrinyup purchased one of these in support of the Geraldton club's project. The Presidential Award was created in 2003 to recognise outstanding contributions by individuals or groups who display unselfish and dedicated work, as recognised by the President of the Rotary Club of Karrinyup, over and above that which would normally be expected.
Following the death in 2007 of our Charter President, Graham Fosbery, the Board decreed that the Silver Gull Award be renamed the Graham Fosbery President's Award in his honour. The Board felt that the work Graham did for others epitomized the finest example of the Rotary motto 'Service above Self'. In recent years, it has been presented by a member of the Fosbery family.
President Peter stated that there are many facets to the operations of our club including markets, meetings, rosters, meetings, marketing, meetings, coffee, and wine. Whilst this has been a concerted effort by a team of Rotarians, a key Rotarian involved in many aspects of these activities, who has undertaken her work with significant dedication and commitment is Trish Lynch. Trish is our Youth Director, SFM Social media extraordinaire, conduit to the Ukrainian support process and a multitude of co-curricular activities as is her want!
Helping others is in Trish's DNA. Her knowledge and passion for our Youth programs is second to none. Even on her holidays, she is catching up with past Karrinyup Rotary Exchange students keeping their world inextricably linked with Karrinyup's and her personal worlds. Trish's unstinting effort with the Stirling Farmers Market, over a decade, has resulted in over 15,000 people following our Facebook page. The quality and regularity with which it is updated ensures much of the success of our market. Congratulations Trish!
At the Changeover evening, Pat Fosbery presented the Award to Trish's good friend Kay on her behalf and Peter promised that at an appropriate time, we would hand the perpetual sculpture to Trish personally. That has now happened.
Share this with your friends